Engaging in online paid surveys offers an opportunity to earn, albeit modestly. While numerous platforms promise rewards, some outshine others in terms of genuine value. To optimize your earnings, it's pivotal to zero in on authentic online paid survey sites.
With countless platforms claiming to remunerate for your feedback, distinguishing reputable ones from the crowd can be challenging. Keep in mind that not every online paid survey platform will deem you eligible for every survey; they typically match surveys to specific demographics and habits.
To ensure you invest your time wisely, this guide highlights survey platforms vetted and endorsed by BestPayingPTC.
Top 6 Paid Survey Sites To Make Money In 2023
Here are the top-earning platforms for taking online paid surveys during your free moments:
Swagbucks
Superpay
Freecash
Ysense
Timebucks
Cointiply
1. Swagbucks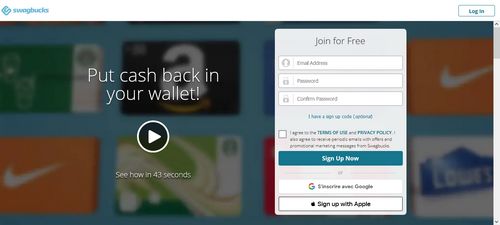 Swagbucks stands as a leading GPT (Get-Paid-To) platform, boasting a vast community of over 21 million dedicated members globally. What makes Swagbucks unique isn't just its impressive array of surveys but the multifaceted opportunities it provides for users to earn rewards.
Diversifying its earning avenues, Swagbucks allows members to accumulate points (known as SB) not only by participating in surveys but also by engaging in activities such as watching curated videos, browsing the internet, playing games, and availing special offers. Additionally, online shoppers can benefit from cashback deals when they shop through Swagbucks' partnered retailers.
A notable advantage for newcomers is a welcome bonus awarded upon signing up via our exclusive link below, presenting a head start in their earning journey.
While some tasks on Swagbucks might offer smaller rewards, it's the surveys, online shopping cashbacks, and special offers that truly stand out in terms of potential earnings, especially for users based in the USA.
The redemption process on Swagbucks is straightforward. Users can opt for a payout through PayPal or select from an extensive range of gift cards. The minimum threshold for gift card redemption is as low as $1-$2, whereas for PayPal cash, it's set at $5, ensuring a quicker and more flexible reward system for its members.
Withdrawal Options: PayPal, Amazon, Mastercard, other gift cards
Minimum Withdrawal Amount: $1
2. Superpay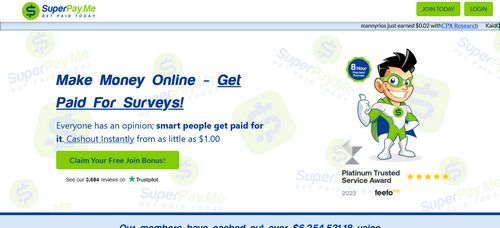 Superpay stands out as a prime destination for those seeking diverse earning opportunities, especially for individuals in the US. While its core strength lies in offering a plethora of surveys with daily availabilities, it doesn't stop there. Users can diversify their earning methods by engaging in activities such as ad clicks, availing special offers, and viewing videos. A noteworthy feature is their exciting $1,000 cash contest held quarterly, amplifying the potential rewards for its members.
One commendable aspect of Superpay is its exceptional customer support system. Unlike many survey platforms, Superpay ensures that if members encounter any issues, they receive assistance promptly, often within a few hours. This emphasis on user satisfaction is a highlight and something that members genuinely value.
Navigating Superpay might require a little familiarization, but once you're in the groove, reaching the payment threshold is swift. It's worth noting the incredibly low payout threshold of just $1, which means users can quickly redeem their earnings. As for payment options, Superpay.me offers versatility with payouts available through PayPal, Skrill, Bitcoin, and an assortment of gift cards. To kickstart your earning journey, Superpay also provides a joining bonus of $0.20, edging you closer to that first payout almost immediately.
Withdrawal Options: PayPal, Instant PayPal, Skrill, Wise
Minimum Withdrawal Amount: $1
Welcome Bonus: $0.20
3. Freecash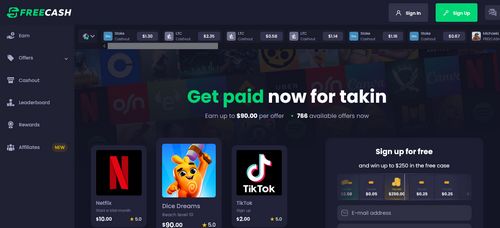 Freecash emerges as a fresh face in the landscape of survey and GPT platforms, particularly in the USA. While it predominantly shines as a platform for paid surveys, there's an added advantage of exploring a variety of paid offers to amplify your earning potential.
A standout feature of Freecash is its lightning-quick payment system, especially for crypto enthusiasts. If you're looking to be compensated in digital currency like Bitcoin, Freecash is a front-runner, with its ultra-low minimum withdrawal threshold of just $0.25. Moreover, these transactions are processed instantaneously. For traditionalists leaning towards PayPal and gift cards, the threshold is set at a modest $5.
To sweeten the deal further, if you decide to join via a specific link, there awaits a complimentary case. Upon redeeming this post-registration, members stand a chance to secure a joining bonus ranging anywhere from $0.05 to a whopping $250. This feature not only showcases Freecash's commitment to its user base but also elevates its appeal for newcomers. For more info, check out our FreeCash review.
Withdrawal Options: PayPal, Bitcoin, Litecoin, Ethereum, CS:GO skins, gift cards, Stake, Faucetpay
Minimum Withdrawal Amount: $0.25
Welcome Bonus: $0.05 to $250
4. Ysense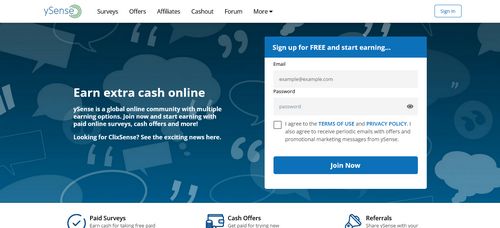 ySense, formerly known as ClixSense until its rebranding in mid-2019, stands as a prominent survey platform with a global reach, offering enticing opportunities, especially in regions like the USA.
Beyond its core survey offerings, ySense boasts a myriad of other earning avenues. It presents an extensive array of survey opportunities catering to various demographics. One of its notable features includes the daily activity bonus, which rewards consistent users. Additionally, ySense partners with Figure Eight, enabling users to undertake specific tasks and secure significant bonuses. The platform also features a diverse set of 'offer walls' – a collection of assorted tasks and activities – further augmenting the earning potential for its users.
User-friendliness is key with ySense, ensuring a seamless experience for members. For US-based users, the payout options are diverse and appealing. Whether you're inclined to cash out your earnings through PayPal or Skrill or perhaps fancy Amazon gift cards or other enticing vouchers, ySense has got you covered. Depending on the reward option you gravitate towards, the minimum withdrawal amount is set at a convenient $5.
Withdrawal Options: PayPal, Skrill, Mastercard, Amazon gift cards, other gift cards
Minimum Withdrawal Amount: $15
5. Timebucks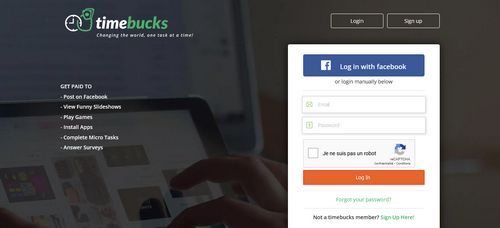 Timebucks is a multifaceted GPT (Get-Paid-To) platform that has gained popularity in various countries, including the US. The site's array of earning opportunities may appear complex at first glance, but with some exploration, users can uncover an array of rewarding tasks.
Earning methods on Timebucks include but aren't limited to participating in online surveys, watching videos, solving captchas, completing offers, and executing social media-related tasks. The platform also features a unique TikTok task, where users can get paid for following certain TikTok accounts. Referral bonuses are available as well, offering a percentage of the earnings from friends and family who sign up.
When it comes to redeeming earnings, Timebucks offers a flexible payout scheme. Users can choose between various payment methods such as Bitcoin, Skrill, AirTM, Payeer, and even direct Bank Transfers. Note that the minimum withdrawal threshold is set at $10, so users must accumulate at least that amount before cashing out.
Timebucks also emphasizes transparency, providing detailed statistics and tracking for users to monitor their earnings and activity on the site. Overall, with its diverse opportunities and clear payout structure, Timebucks stands as a valid option for those looking to earn some extra cash online.
Withdrawal Options: Visa, Paypal, Payeer, Skrill, Wise, Tango, AirTM, Crypto-currencies
Minimum Withdrawal Amount: $5
Welcome Bonus: $0.50
6. Cointiply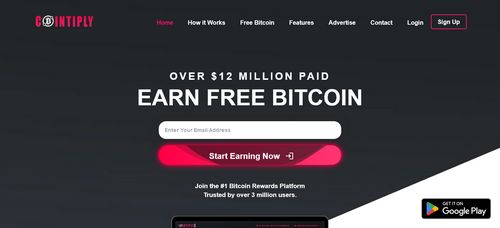 Cointiply carves a unique niche in the GPT (Get-Paid-To) ecosystem, particularly for users in the US who are cryptocurrency enthusiasts. This platform primarily rewards in cryptocurrencies, setting it apart from many of its counterparts that offer rewards in standard fiat currencies or gift cards.
The platform offers a plethora of ways for users to earn. Apart from taking online surveys, users can tap into Cointiply's renowned Bitcoin faucet – a feature allowing members to claim small amounts of Bitcoin at regular intervals. Interacting with ads, diving into the site's multiplier game, and participating in various online games are other avenues to earn. The site also provides curated video content and select offers, ensuring that there's no shortage of earning opportunities.
One notable feature of Cointiply is its loyalty bonus, which rewards consistent daily users. This bonus can greatly increase earnings over time for dedicated members.
For those with a penchant for cryptocurrencies, particularly Bitcoin, Cointiply presents itself as a robust platform. The minimum withdrawal threshold is pegged at an equivalent of $3.50, but this can fluctuate depending on the current cryptocurrency rates and the specific type of cryptocurrency chosen for payout.
In summary, for those looking to delve into the world of cryptocurrencies without the direct investment, Cointiply offers a beginner-friendly avenue to earn and familiarize oneself with digital currencies.
Withdrawal Options: Bitcoin, LTC, Dash, Doge
Minimum Withdrawal Amount: $3.50
The Ultimate Guide to Maximizing Earnings from Paid Surveys Online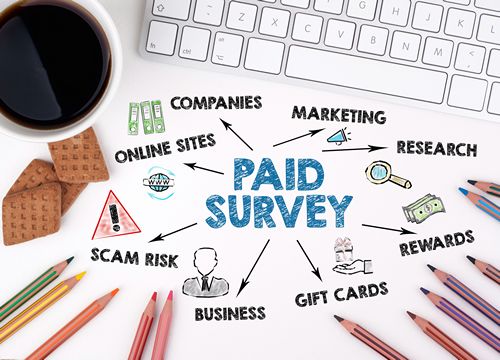 The world of paid surveys has become a prominent side hustle for many internet users. With the allure of making money from the comfort of your home, it's no wonder the popularity has surged. But like all opportunities, maximizing profitability is key. Let's delve deeper:
Comprehensive Profile Completion: Every journey in the realm of paid surveys starts with a profile. This isn't just a formality. Many platforms reward bonus points for a detailed profile, and it ensures you're matched with the most relevant and high-paying surveys. Think of it as your paid surveys resume – the better it is, the more opportunities you'll land.
Prioritize with Precision: The universe of paid surveys is vast, and not all surveys are created equal. Some are time sinks with minimal rewards, while others can be gold mines of points for a few minutes of your time. It's essential to weigh the time requirement against the payout. Tools or calculators that evaluate this ratio can be invaluable.
Explore Complementary Offers: Many paid surveys platforms are evolving into holistic reward platforms. Beyond the basic survey opportunities, they often house tasks like video watching, game playing, or even product purchasing. While they might seem peripheral, they can significantly boost your points tally.
Ensuring a Smooth and Profitable Paid Surveys Experience
Diving into paid surveys can be both fun and profitable, but there's an art to making the experience seamless:
Separate Your Communications: Paid surveys sites can be quite active in email communications. From new survey notifications to promotional offers, the volume can be overwhelming. A dedicated email for your paid surveys escapades can keep your primary inbox clutter-free and ensure you never miss a high-paying survey opportunity.
Breaks, Breaks, and More Breaks: The allure of paid surveys can sometimes lead to marathon sessions. However, mental fatigue can result in inconsistent answers, potentially jeopardizing your standing with the platform. Regular short breaks can keep you sharp, ensuring quality and consistency.
Safety First: The majority of paid surveys sites are legitimate and secure. However, in the vast expanse of the internet, some unsavory platforms might slip through the cracks. Ensuring your computer has updated antivirus software is a simple precautionary measure.
Identifying the Right Paid Surveys Platforms
The golden rule in the world of paid surveys is to be selective:
No Entry Fees: Authentic paid surveys platforms are gateways to opportunities, not barriers. If a site demands a registration fee, it's a red flag.
Research is Paramount: Before diving into a platform, a bit of research goes a long way. Authentic user reviews, testimonials, and even potential red flags can be found with a simple search. Knowledge is your best defense against potential scams.
Know Your Worth: The paid surveys ecosystem is diverse. While it's unrealistic to expect vast sums for simple surveys, being aware of industry averages ensures you're not settling for less.
Diving Deeper: More Insights on Paid Surveys
Your journey with paid surveys doesn't end with sign-up. To truly maximize, you must evolve and adapt:
Stay Alert: Paid surveys platforms often roll out special surveys or time-sensitive opportunities. Staying active and responsive can be the difference between a standard reward and a bonus.
Loyalty Can Pay: While diversifying across platforms is a sound strategy, some platforms reward long-term and active members with premium surveys or loyalty bonuses.
Paid Surveys on the Go: With the proliferation of smartphones, many platforms offer mobile apps. These apps often come with mobile-exclusive surveys, ensuring you can earn on the move.
The Big Picture: Paid Surveys in the Digital Age
In the constantly evolving digital landscape, paid surveys stand as a testament to the power of opinions. Brands and companies are more eager than ever to get direct insights from consumers, and they're willing to pay for it. While paid surveys won't replace a full-time job, with the right strategies and platforms, they can be a substantial and fun source of extra income.
Mastering the Art of Paid Surveys Online
The online ecosystem is brimming with opportunities to make money, and leading the charge are paid surveys. These platforms offer users a chance to earn by merely sharing their opinions. But how can one truly maximize this opportunity?
The Basics of Paid Surveys
Before diving deep into strategies, it's essential to understand the basics of paid surveys. Brands and companies value consumer feedback. In an age where data drives decisions, your opinion as a consumer is invaluable. Paid surveys serve as a bridge, connecting these companies to real users willing to share their insights in return for compensation.
Getting Started: The Profile Advantage
The first step in your paid surveys journey is profile completion. This isn't just a formality. A well-rounded profile ensures:
You are matched with surveys that align with your demographics.
Reduced chances of disqualification midway through a survey.
Higher potential to access premium, high-paying surveys tailored for specific profiles.
Strategies to Maximize Earnings
While paid surveys can be lucrative, not every survey that comes your way is gold. Here's how to optimize:
The Time vs. Reward Matrix: Not all surveys are worth your time. If a survey offers pennies but takes an hour, it might not be the best use of your time. Be selective.
Diversify Your Platforms: Don't limit yourself to one paid surveys platform. Different sites have various clients and offer a myriad of surveys. Expanding your reach increases earning potential.
Consistent Participation: Some platforms reward consistent users with loyalty bonuses or access to exclusive surveys. Regular participation can, therefore, have compound benefits.
Engage Beyond Surveys: Modern paid surveys platforms offer more than just surveys. From watching videos to shopping online, explore other earning avenues they provide.
Safety First: Navigating the World of Paid Surveys
The internet can be a wild place. While most paid surveys platforms are legitimate, staying safe is crucial:
Never share overly personal information like your Social Security Number.
If a site demands payment to access surveys, steer clear. Legitimate platforms are free to join.
Use dedicated email addresses for your paid surveys activities to prevent spam and maintain privacy.
Leveraging Technology: Paid Surveys on Mobile
With the world going mobile, many paid surveys platforms now offer dedicated apps. These apps often come with:
Mobile-exclusive surveys.
Notifications for high-paying surveys.
User-friendly interfaces for quicker survey completion.
The Future of Paid Surveys
As brands increasingly recognize the value of consumer feedback, the world of paid surveys is set to grow. Stay updated with trends, as newer platforms might offer innovative ways to earn.
Paid surveys provide a unique blend of ease and earning potential. Whether you're a student, a professional, or someone looking to monetize free time, diving into the world of paid surveys can be a rewarding experience. With the right strategies, it's more than just pocket change; it's a step towards financial freedom.
Demystifying Paid Surveys: Your Comprehensive Guide to Earning Online
In the vast landscape of online earning opportunities, paid surveys stand out as an accessible option for many. They have become a popular choice for those seeking a side income. But what are they, and how can one truly maximize their potential?
What Are Paid Surveys?
Brands, companies, and researchers are continually seeking consumer feedback to refine their products, services, or ideas. Paid surveys act as a bridge, connecting these entities to users ready to provide insights, and in return, earn compensation.
Diving Deep: The Inner Workings of Paid Surveys
Once you sign up on a survey platform, you're presented with surveys that match your profile. These can range from questions about shopping habits to opinions on societal issues. Each survey has a reward, often proportional to its length and complexity.
Optimizing Your Earnings: The Pro Tips:
Profile Completeness: Ensure your profile is 100% complete. This increases the number of survey matches and thus, earning opportunities.
Stay Active: Regularly log in and participate. Some platforms prioritize active members by offering them high-paying survey opportunities.
Join Multiple Sites: Don't put all your eggs in one basket. Diversify by joining several platforms. Each has its unique surveys and offers.
Mobile Optimization: Use platforms that offer mobile apps. These allow you to complete surveys during commutes, waiting times, or any free moment, maximizing your earning potential.
Avoid Burnout: It's tempting to try and complete every survey, but pacing yourself ensures consistent, quality feedback and prevents fatigue.
Safety First in the World of Paid Surveys
While there are numerous legitimate paid survey sites, caution is always advised:
Avoid platforms that demand a sign-up fee. Genuine survey sites are free to join.
Use a separate email for survey activities to prevent spam in your primary account.
Regularly cash out earnings. Don't let a significant amount accumulate in any platform.
Stay updated with online reviews of survey sites to ensure you're working with reputable platforms.
Beyond Surveys: Other Earning Avenues
Many survey platforms have expanded their offerings:
Video Reviews: Watch product videos or ads and provide feedback.
Product Testing: Receive products, use them, and offer insights.
Referral Programs: Refer friends or family and earn a percentage of their earnings.
Online Shopping: Some platforms offer cashback for shopping through their portal.
The Challenges of Paid Surveys
While they offer numerous benefits, understanding challenges ensures better preparation:
Disqualifications: You may start a survey but get disqualified if you don't fit the demographic. It can be frustrating, but it's part of the process.
Payment Thresholds: Some sites have minimum amounts before you can cash out. This means you might need to complete several surveys before seeing any real money.
Time vs. Reward: Not all surveys are worth the time they demand. Being selective is essential.
Paid surveys are a valuable avenue for online earnings, but they require a strategic approach. With understanding, patience, and consistency, they can serve as a rewarding side gig. By diversifying platforms, staying active, and prioritizing safety, you can harness the full potential of paid surveys and pave your way to consistent online income.
Understanding the Real Value of Online Paid Surveys
Engaging in online paid surveys has steadily gained traction among internet users, mainly due to the appeal of securing some easy cash. But one must ponder: Is the effort exerted on these platforms genuinely worth the returns?
Each online paid survey platform has its distinct reward structure. Still, a recurrent observation is that while the process might seem straightforward, the payouts can often be on the lower side. Many of these online platforms use a point system or have set a minimum earnings threshold, which a participant must achieve before cashing out. This might mean dedicating a significant amount of time to accumulate enough points, only to discover that the earnings equate to a relatively small sum.
When diving into the world of online paid surveys, it's vital to measure whether the potential earnings are in sync with the time you're investing. In numerous cases, the hourly rate you can derive from these surveys might not match the expectations set by traditional job standards, sometimes even lagging behind the federal minimum wage.
However, online paid surveys come with an advantage. Their inherent flexibility lets users multitask. For instance, filling out a survey during a daily commute or as a leisurely activity during TV time can make the process less tedious, transforming it into a relaxed method of earning some extra change.
In wrapping up, while online paid surveys might not promise substantial wealth, they offer a handy way to monetize idle moments. It's always essential to assess the pros and cons, ensuring that this digital avenue aligns with your financial and time-based expectations.